Family owned & operated since 1938, M. C. Delandes Monuments & Memorials Inc. has specialized in creating beautiful, distinctive and memorable monuments to be endless in time for all faiths, languages and cemeteries across North America.
Marcel C. de la Lande founded M. C. Delandes in 1938 and established a reputation of providing the best quality craftsmanship using the finest granites imported from quarries around the world, at the best competitive prices.
Now in it's third generation of operation and ownership, we are committed in preserving our family tradition of excellence and top customer service before and after.
This is our guarantee to you. 
WE ALSO OFFER CUSTOM MAUSOLEUMS, COLUMBARIA, SIGNAGE AND MORE SPECIALITY ITEMS
Here at M. C. Delande's we offer more than just upright memorials & flat grass markers.
Whether you are looking for commemoration signage, house address rocks, a custom Columbarium or Mausoleum, our knowledgeable staff can help you with your special project or needs. We service communities around all of Manitoba, North Western Ontario and Saskatchewan. 
Visit our gallery to see some of our work in these categories.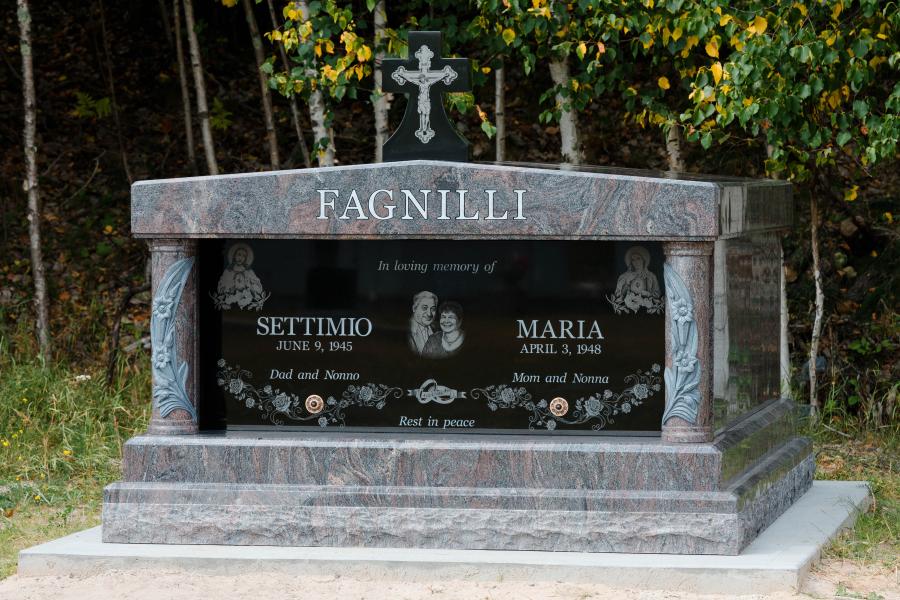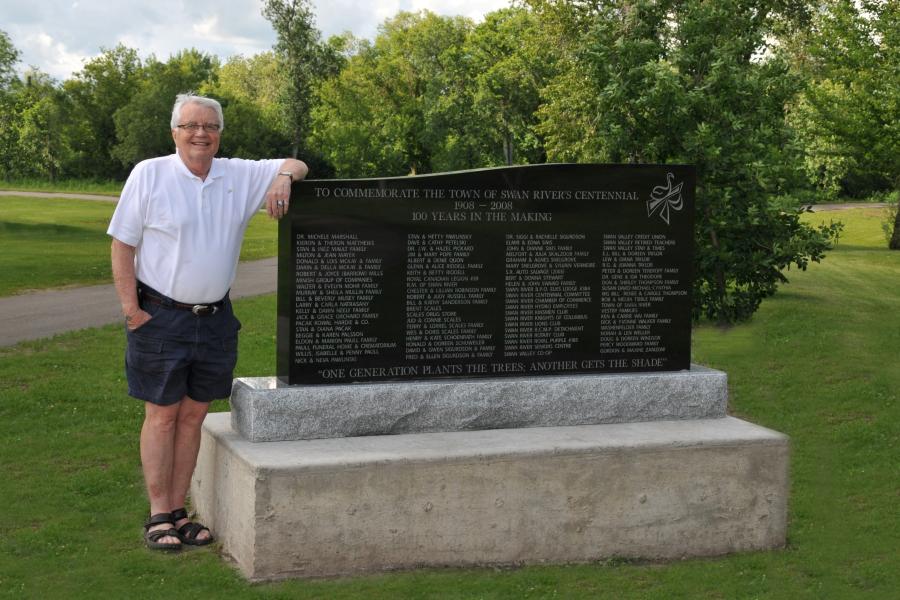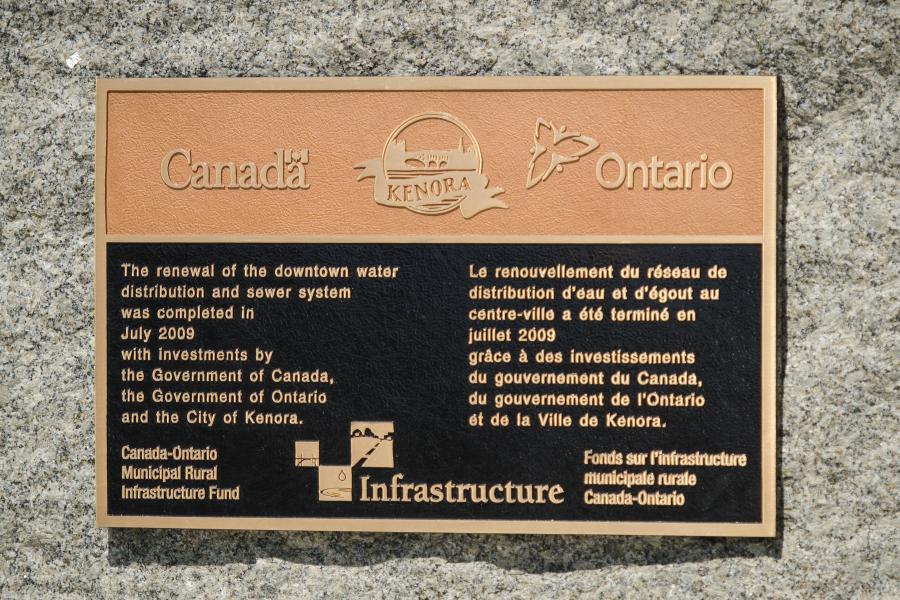 Below Is a List of Services We Offer
Please feel free to click on any of the links below and you will be directed to your chosen section in our online gallery.
What Our Customers Have To Say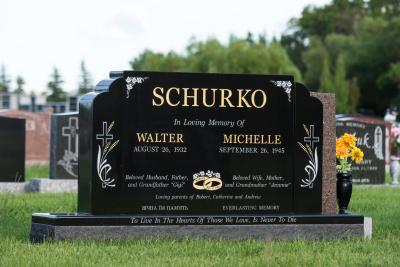 Because of the excellent service and quality of workmanship that was provided 39 years ago for our parents' monument, this is the third one that we have had done by M. C. Delande's Memorials, and have been extremely satisfied with the results.
With the very professional help and experience from both Matt and his wife, Rosa, plus the extraordinary patience they had with us during the many visits it took to create our beautiful monument, it more than met our expectations.
We spent a lot of time with both Matt and Rosa in finalizing this memorial and dealing with both of them was not only an enjoyable experience but we also developed a friendship. Many thanks, Matt and Rosa, for the excellent service we received.
From our experience, we would strongly recommend M.C. Delande's Memorials to anyone who would want friendly, professional, personalized service and excellent workmanship.
Walter and Michelle Schurko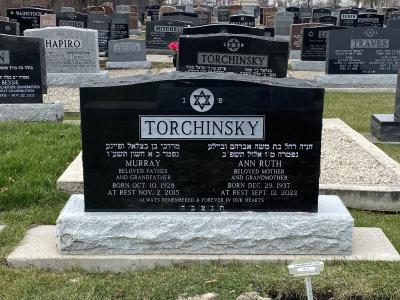 Excellent in every way. Caring, attentive to detail, super responsive, quality work in a more than timely fashion, and incredibly professional. Most important, in a time that can be emotional for families, they do not try to take advantage of you or "upsell" you on products or services you may not need or desire. Again, an excellent company to work with.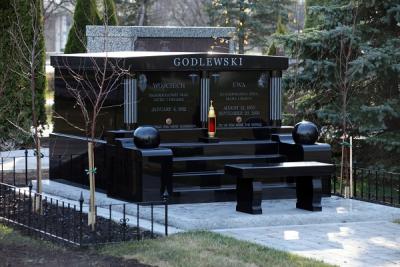 When my wife suddenly was diagnosed with incurable disease, I went to Matt to discuss the plans for a burial site. In the limited time that we had, Matt and his crew were able to create a black granite castle which because of its purpose we are calling a mausoleum. Matt was very helpful with the design details and very accommodating with all the ideas that my late wife and I had. It is very rare to deal with a Business the old fashion way, business whose owner understands the needs of the customer and is proudly willing to put the extra time and effort make a fantastic job and make the customer happy. Thanks again Matt.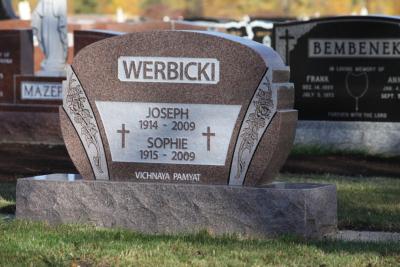 Just wanted to take a moment to comment on the positive experience I had dealing with M.C. Delande's Memorials. Everyone was extremely friendly and eager to help. The trades people did a wonderful job on my Mother and Fathers Memorial Stone. The work was done quickly and correct and I would not hesitate to recommend them to anyone in need of their services. Very professional. Thank you to M.C Delande's Monuments and Memorials.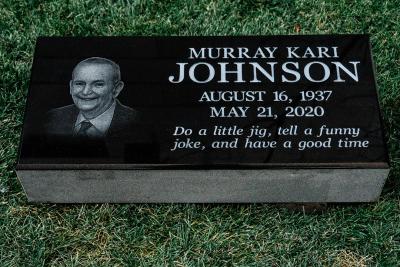 I would highly recommend M.C. Delande's. We are so happy with the craftmanship of the beautiful monument that was made for our Dad. It is exactly what we were wanting and more. Their customer service is exceptional. Both Matt and Aimee were very caring, professional and patient. Thank you so much!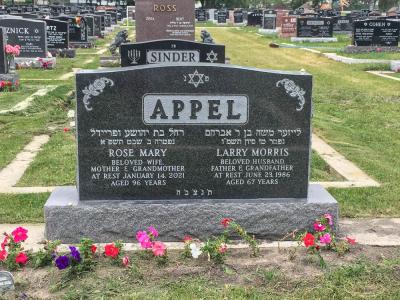 Hired M.C. Delande's to do the inscription for my mother on the family headstone. My father's inscription had been done years before.
They sent me a mock up of what it would look like. I made a small change upon doing some more research re: the Hebrew on the stone, and very rapidly, the change was accommodated. I was then sent a picture of the finished stone upon completion of the work, and matched the existing inscription perfectly.
I am more than willing to suggest M.C. Delande's to anyone who needs a headstone inscription prepared. They were unfailingly courteous and knew to whom to speak at our synagogue, having worked with life cycle events there before.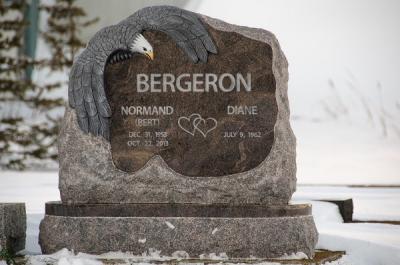 They went through all the options available to me and helped me to decide what to put on the headstone. Their headstones are very unique and one of a kind.
The end result was spectacular. Everybody was in awe of this original piece of work.
I highly recommend this company to help provide you with a unique one of a kind monument available for you. They are very professional on every level!!
Thank you so much Matt

Wow! Matt and staff made a difficult task easier; I did not feel rushed through the process, which took some time on my part. Very helpful with suggestions on how to make the monument even better than I envisioned. It was a pleasure working with Matt and his calm demeanor. The monument is so beautiful and a wonderful tribute to my late husband. The picture of our lake spot, which my husband loved, is astounding - I can't get over how amazing it looks!! Also love the actual stone - shape, rough/smooth rock and the pattern of the face of the stone. Well, well done M.C. Delandes!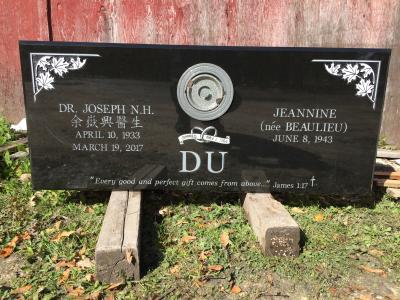 In the summer of 2018, Matt made the difficult task of designing a meaningful remembrance for my parents seem effortless. The quality craftsmanship and superior customer service were very much appreciated.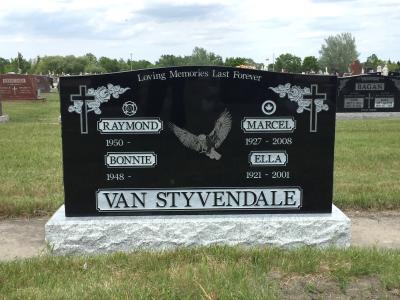 We were very pleased with the exceptional graphics and craftsmanship that was done on our memorial headstone. We really appreciated Matt's expertise and advice. Many thanks to Matt and his staff for their friendliness and professionalism.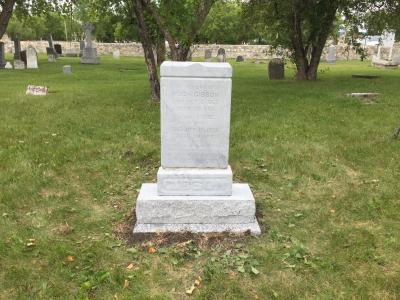 Matt and Delande's Memorials provided amazing quality work and customer service. After attending my grandmothers funeral service, we located my great-great-great grandparents headstone at the old rock church on the river in Selkirk. It had broken and was in major disrepair. In contacting Matt, I found someone who appreciated our family history while ensuring exceptional work that would never need repair again. In each stage of the work, Matt shared photos, updates and detailed the progress. To see the completed, restored headstone and everything Matt and his staff did, is overwhelming. I highly recommend Matt for work that truly pays a tribute to those that families want to honor and cherish. It is rare to find someone committed to that level of quality service and work. A deep and heartfelt thank you.