Questions we may ask you …
Being prepared for some of the questions we will likely ask you here at our office may help make the process easier given you've had some time to discuss these questions & details with family, friends and loved ones. 
Cemetery, grave

&

plot location

&

type of burial and size of plots purchased (traditional or cremation)

How many individuals will the memorial be for at the time of purchase and will there be any potential future additions

Type/Style of memorial (flat, upright, columbaria /  traditional or custom style)

Aesthetic of the memorial (colour, size, finish and design ideas/information you want to put on the stone)

Accessories – vases, portraits, sculptures lanterns, flowerless vases
Below you will find a little more detail and information as to why we might ask these questions and what considerations there are to think about that might reflect the investment in your memorial purchase and why you choose the memorial you do.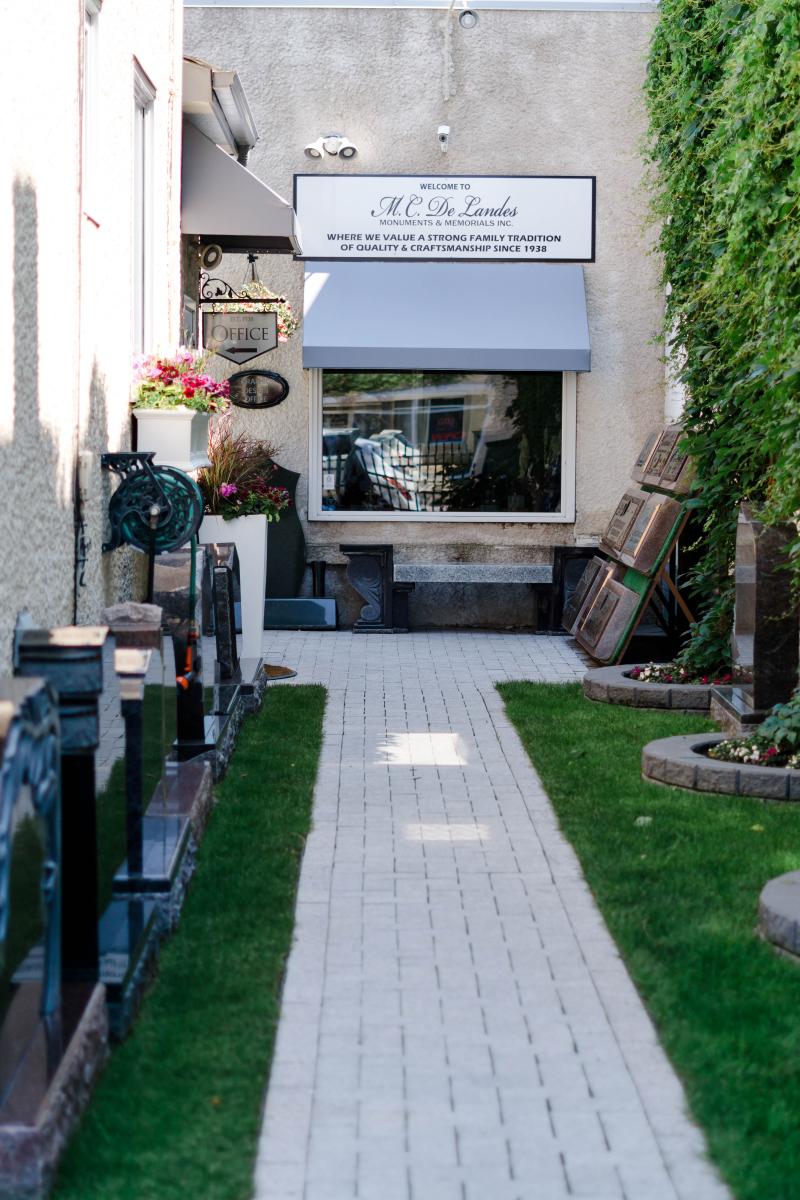 Location and Plot Type
Where is the memorial located and what type of burial is it? Knowing the cemetery, grave and plot location will help us determine what you are allowed, if you will need a foundation, and what cemetery permit fees apply.  We also encourage our families to find out this information before coming to purchase a memorial to familiarize yourself with what exactly you are allowed at your plot and any permit fees that might be applicable – you can find out this information by contacting the cemetery office/parish directly. Each cemetery has its own regulations on sizes and types of memorials that can placed on your plot. While our specialists often know this information, familiarizing yourself beforehand may save us from delivering unfavourable news that a memorial type you had in mind (an upright) is not actually regulated for your plot (in a flat grass marker section for example).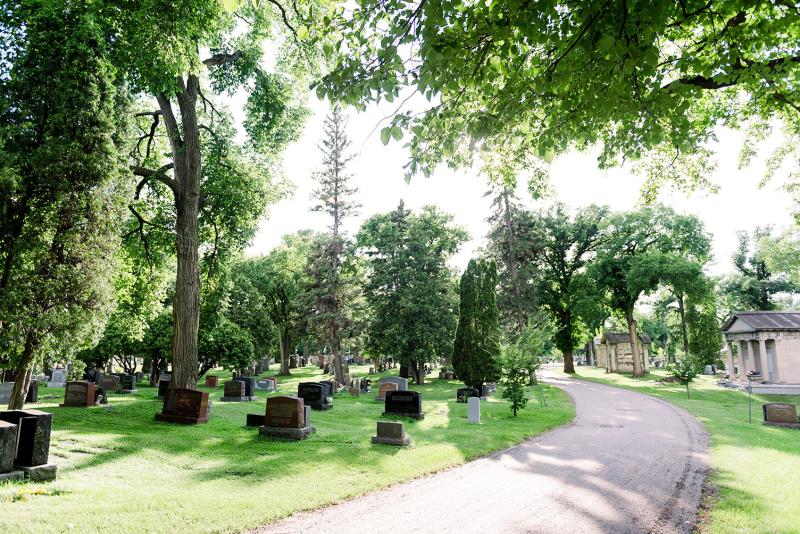 How many individuals will the memorial be for?
Is this a single memorial or a double memorial and do you anticipate there might be more family members added in the future? This will help us determine what size memorial to recommend based on your needs and what is allowable for your plot, how to design and layout the memorial for the present individual(s) and what options are available to you in the future for cremation options and how we can accommodate additional loved ones in the future whether it be added to the stone you are purchasing presently or future options.
Should the situation arise that another loved one would like to join a family plot with an existing memorial, only designed for those individual(s), M.C. Delande's offer's a cremation option in the form of a sub-base. Visit our cremation options in the gallery page to learn more.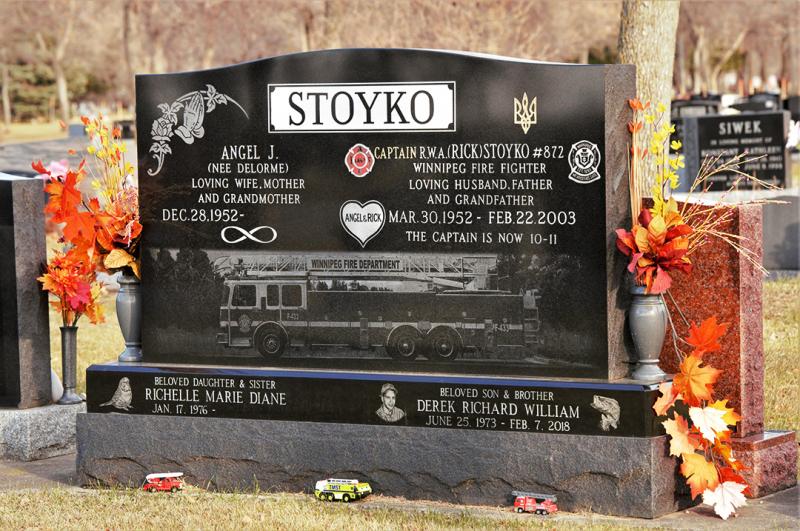 Flat, upright, traditional or custom? 
We offer a variety of memorial types, knowing what type you want and/or allowed is the first step. If it is an upright memorial,  are you looking for something more traditional in shape or a custom design? We specialize in either spectrum and can custom design almost anything as unique as the loved one you are creating a memorial for. Don't know what the difference is between custom and traditional, to the left you will find some examples of flat markers, upright traditional memorials and custom design memorials. If you plan on shopping around, "always compare apples to apples,' especially if you are thinking about a custom design. Ask to see previous custom work completed by that company before letting them tell you they can do anything.  Make sure the images you are seeing are completed memorials and not just sample images provided by granite suppliers or other companies, as what cemeteries they can be found in.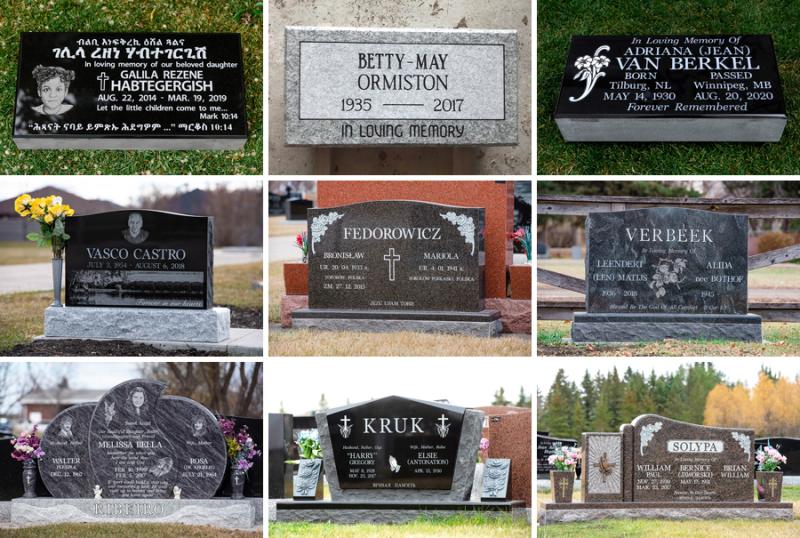 Aesthetics of the stone such as size, colour(s), design and finish?
Size, you may have something specific in mind for size and type of memorial, but knowing what you are allowed in your plot will help minimize any disappointments. Our specialist will also help guide you in the right size selection based on what is allowable and what will suit your design & information needs for the individual(s) the memorial will represent.
Colour, when it comes to colour and granite choices, note that all of our memorials are created with imported Granite with the exception of Bronze (a standard for some private cemeteries). Granite is the standard material within most cemeteries and come in a variety of colours and patterning – we will guide you in the best colour choices if you are looking for something more unique in patterning, low to no-future maintenance and what will etch best for portraits, scenes and landscapes. Keep in mind darker granites offer higher contrast when sandblasted and do not require paint, while lighter granites may require paint and in turn maintenance down the road.  Like diamonds, there are many different grades of granite available and some memorial dealers have been known to use second and third grade granites and sell their products for the same prices as those who use first grade granites. At M.C. Delande's, we pride ourselves in importing our own granites from quarries all around the world while selecting only the highest grade of granite.
Memorial & Base Finishes , there are 3 types of finishes on the memorial to choose from:
Industry standard - front and back (2 sides polished) Wolpow
Front, top and back (3 sides polished, most popular) Rich
Front, top, back and sides ( all polished)
You can also customize the style of base you prefer:
Industry Standard - Galaxy Grey Base (Neutral base) Rosenbloom
A Matching base Berenhaut
2" margin matching or Galaxy Grey Base Kimelman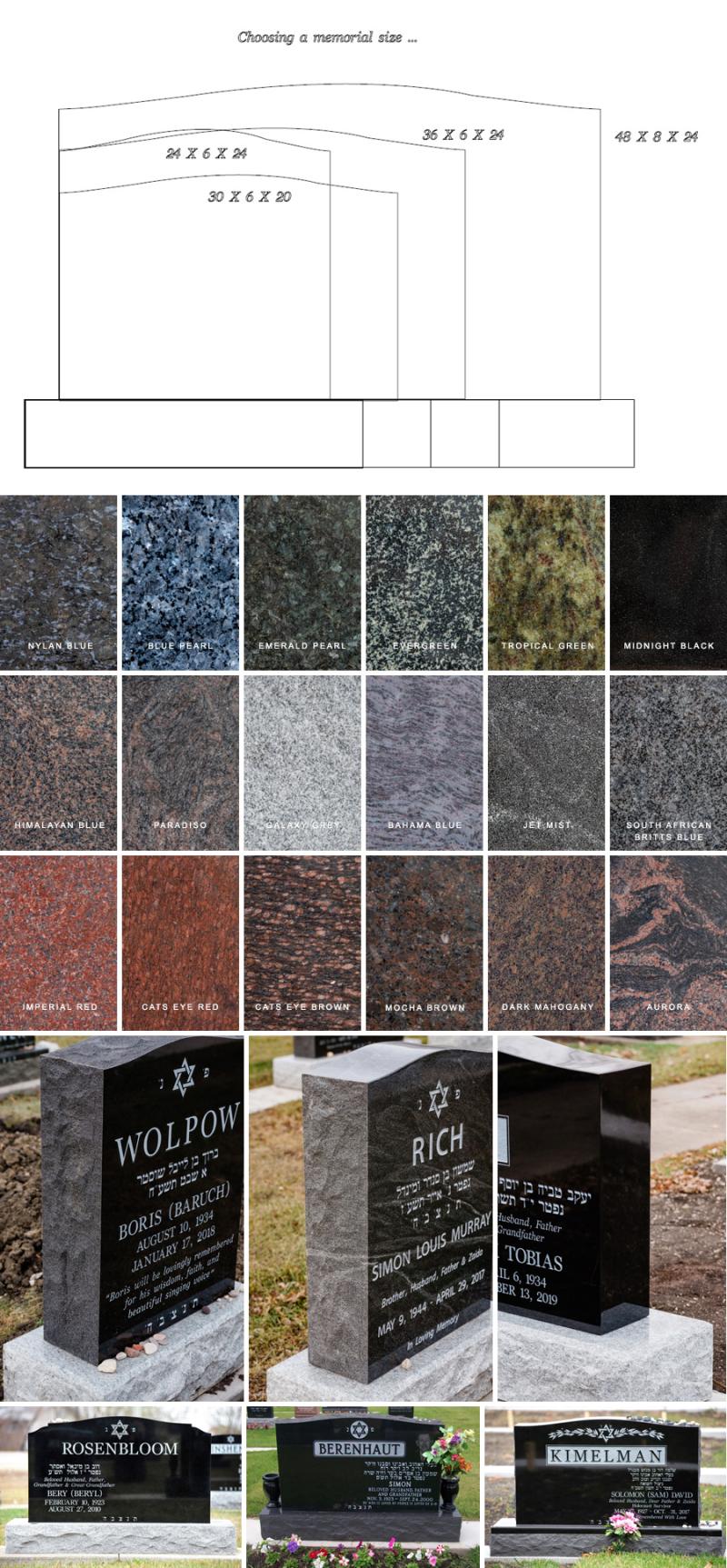 Design and Accessories,
How much lettering, design(s) you anticipate (diamond impact etched or sandblasted)  and accessories (if any) will reflect the best size memorial to consider and the investment associated to it.
We will ask you questions such as, how long is the family name, is there a lot of information going on the memorial, will you include more than one language, will you be wanting a portrait of your loved one(s) or a very specific image or scene, a sandblasted vector of their favourite hobby, or vases for flowers.
We have many clip arts, religious motifs, flowers, hobbies and logos to choose from in our design system, simply provide us a thought or an idea and we can place this into a proof. Sandblasted line art is included in your quote and we have just about anything you can think of to best represent the individual the memorial is for.  Should you be interested in something very detailed or specific to your loved one, such as a picture from a favourite holiday, a family cottage, landscape, or idea that cannot be achieved through simple line-art we will likely suggest Diamond Impact Etching your idea. We have a graphic artist on staff that is highly skilled and specializes in bringing your vision to life. Diamond impact etching is the only way to truly achieve the detail & realism you seek in something custom, there is a very big difference between choosing a diamond impact etching over sandblasted clipart, to learn more visit http://mcdelandes.verdawebdesign.ca/gallery/diamond-impact-etching to learn more about the difference.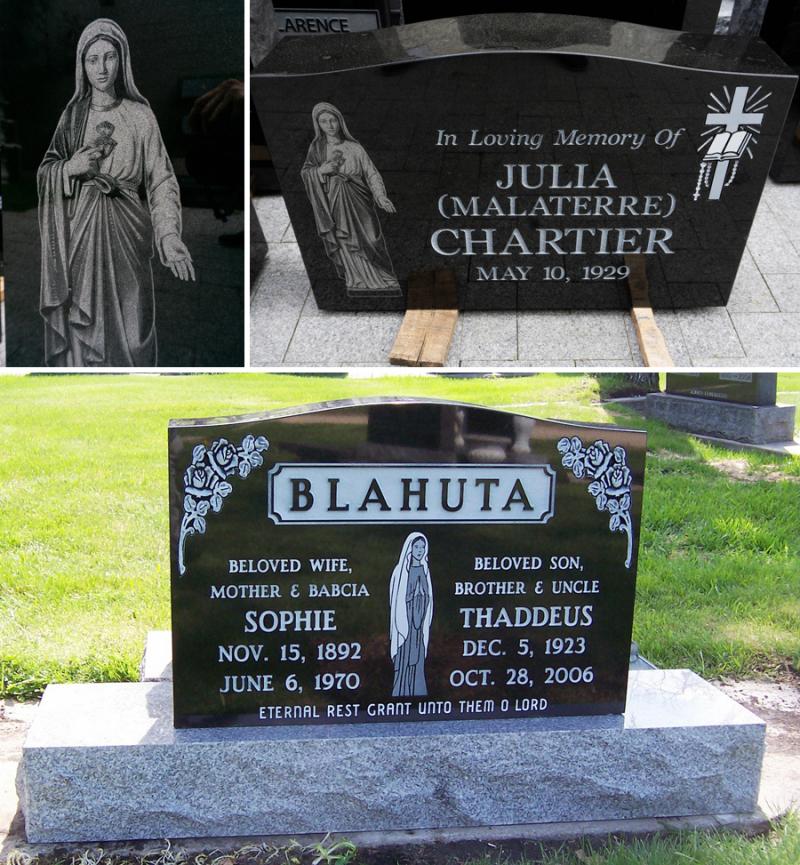 After the Purchase
Once your memorial has been chosen & purchased, depending on the type of memorial you purchase, the time frame for when completion can be expected will vary from memorial to memorial based on many factors; considerations for whether the memorial is an in-stock item or a custom imported order, shipping times from overseas, confirmation on the final design with our artists, where it is in cue of other memorials, weather, and scheduled installations for trips out of town are just a few. Memorials are not an easily stocked item, thus the process takes time and patience, and a monument is one of the most important & permanent purchases you'll ever make in a lifetime  so it is best to trust & not rush the process as our staff does our best to create an everlasting tribute for your loved one.
Our design staff will work diligently with you through the design process providing you a proof to make sure all spelling & dates are correct and that the layout and overall design is exactly what you envision. Once approved, the stencil of your design will be cut, placed on the stone and the memorial will be placed into cue for sandblasting, and/or diamond impact etching. Once completed, our skilled installation crew will install the memorial and we will update you that your memorial has been completed and installed.